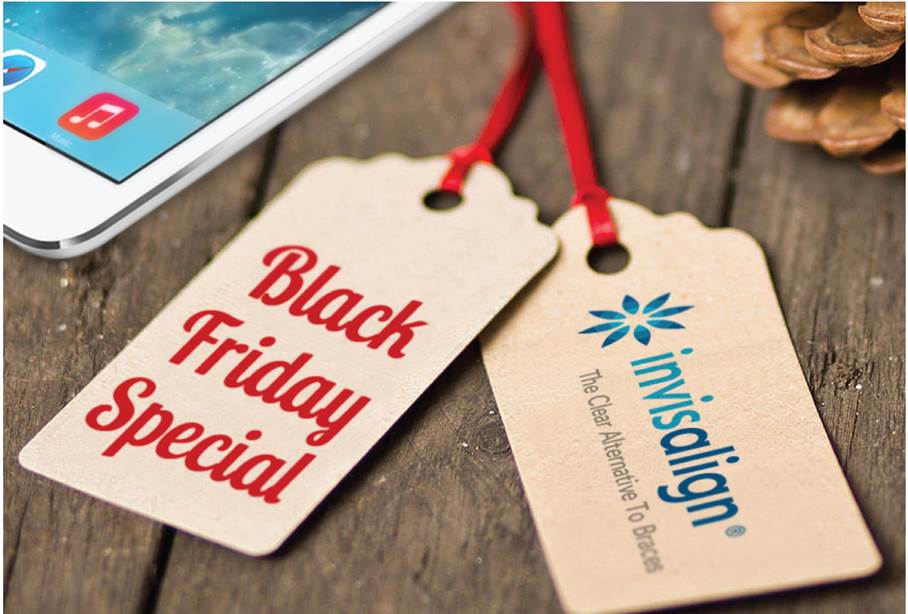 Invisalign is one of the most innovative remedies for crooked teeth, overbites, and under bites. Invisalign is a breakthrough dental technology which involves the wearing of clear, plastic aligners to achieve the desired straightening objective for your teeth. We will show you computerized 3D imaging and chart the progress of your smile as it straightens and shifts into position. The Invisalign trays are transparent to eliminate visibility. They can also be removed and cleaned at any time, unlike traditional braces, which tend to collect food easier. New Invisalign aligners are provided to you every two weeks, meaning your teeth aren't subject to as drastic shifting as with traditional braces which have monthly tightening.
Braces vs. Invisalign
If you are considering braces vs Invisalign to straighten your teeth, or your child's teeth, you may have lots of questions. Which is more effective? Which is more affordable? Ultimately, you want to choose the treatment that will do the job, even if it is slightly more expensive. In the long run, you don't want to have to fix your teeth again!
Both braces and Invisalign were designed to straighten teeth while improving your smile and oral health.
Braces consist of metal brackets being bonded to your teeth, and tied together by wires and tiny rubber bands. Nowadays, you can get brackets to more closely match your enamel color (making them more discrete), or you can get them in color to make a fashion statement with your mouth! This does come with an increase in cost.
Invisalign, on the other hand, is designed to be virtually invisible. Aligner trays made of smooth, comfortable, BPA-free clear plastic are worn over your teeth to subtly and gently move your teeth. We will use X-rays, pictures, and impressions to create a precise 3-D image of your teeth and to configure your aligner trays accordingly.

Braces vs Invisalign, Which Will Work Best for You?
While both braces and Invisalign can help straighten teeth, they each have pros and cons. Take a look at the detailed braces vs Invisalign comparison chart below.
Clearly, in comparing braces vs Invisalign, it's a tight race. If you're an adult, or have a teen, who tends to be self-conscious, Invisalign may appeal to you. And the fact that it's removable so you can eat, drink, brush and floss more naturally, may sound desirable. But if the idea of having to remove your trays for meals or while drinking anything but water seems inconvenient, Invisalign may not be the best solution for you.
Exact success rates for braces vs Invisalign are difficult to find, since Invisalign has not been around long enough to gather long-term data. Plus, Invisalign success depends almost entirely on the beholder. If you don't wear them, they won't work. With braces, you don't have any choice in the matter!
Lastly, if you need to address issues with your back teeth, need to rotate teeth or move teeth vertically, Invisalign may not even be an option. That's why it's critical to enlist a provider like Tarzana Dental Care.
Straightening your teeth to improve your smile and overall oral health should not be taken lightly. If you need help deciding whether braces or Invisalign makes more sense for you or your child, call us for a free consultation.
How Does It Work?
When you visit our office, we will begin with a comprehensive exam to determine whether Invisalign® is the right course of treatment for you. We will discuss with you the goals you have for treatment and the results you desire to achieve upon completion. With this information in mind, we will recommend a treatment plan. It will probably look something like this:
Pictures will be taken of your mouth to input into the computer.
3D computer technology takes the precise measurements and information to design a series of You may be required to have anywhere from 6 to 48 in all.
You will wear each set of aligners for approximately two weeks, and for at least 22 hours each day.
When the two weeks is complete, you simply switch the aligners out for the next set in the series. This continues until you have completed treatment. You will continue to see your doctor every six weeks.
Making The Most of Your Treatment
There are many benefits that come from the Invisalign® system, but you must do all you can to make it work properly. Although the aligners are removable, you should only take them out to eat, brush, and floss. On special occasions, it is okay to remove them, but you should strive for at least 22 hours of wear every day.
The aligners should also be washed each day and rinsed with warm water. Once a week you can soak them in denture cleaner and again rinse in warm water. Do not wrap them in napkins when you eat, but rather place them in the container given to you by our team. This will help you avoid throwing them away.